NCSS rallies partners to better engage volunteers Back to list
12 Apr 2023| In The News
By Vivien Ang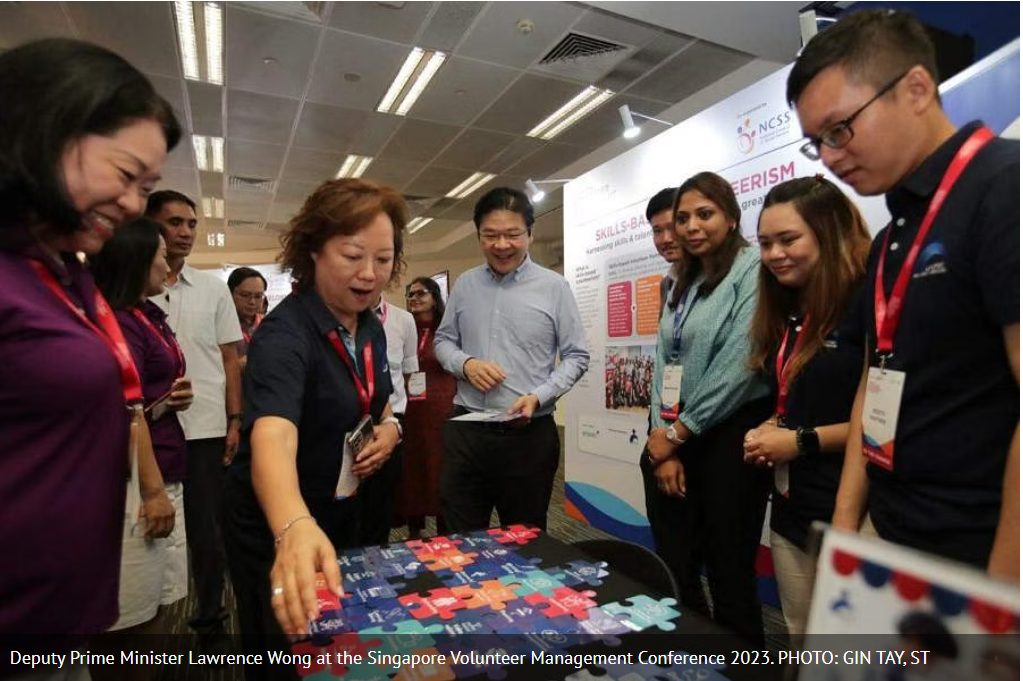 "CORPORATE social responsibility is a form of employee engagement."
This comment by Speaker of the Parliament, Tan Chuan-Jin, at a fireside interview was the running theme of the inaugural Volunteer Management (VM) conference on Tuesday (Apr 11).
Organised by the National Council of Social Service (NCSS) and the Singapore University of Social Sciences (SUSS), the event drew about 2,000 people from the public, people and private sectors who discussed the importance of having volunteer managers and incorporating VM practices. These practices, including clear descriptions of volunteer roles, are aimed at increasing companies' chances of retaining enough volunteers to meet organisational needs.
NCSS' 2022 Survey also indicated that more than 70 per cent of social service agencies agreed or strongly agreed that having dedicated volunteer managers would improve volunteers' experiences.
Tan, one of the speakers at the event, said that this group of people play an important role in Singapore, and that they should be engaged in a structured way.
Deputy Prime Minister Lawrence Wong also attended the event as the guest of honour. He said: "When we volunteer and serve, we meet people in circumstances different from our own; we develop greater empathy and learn what it means to walk in the shoes of others."
He also voiced concerns about the volunteerism rate, which has come down to 22 per cent from 2016's all-time high of 35 per cent; but he attributed this partly to the impact of the pandemic.
Hence, he said that the government is looking to grow and sustain volunteerism in Singapore through various initiatives, such as the SG Cares App and SG Cares Volunteer Centres.
Wong added that volunteers should not be made to feel like they are being used simply to fill in the slots or to plug certain organisational needs.
Tan Seng Chai, executive director of CapitaLand Hope Foundation (CHF) and chief corporate and people officer of CapitaLand Investment, echoed this sentiment, saying: "We believe that when we empower and enable our staff to volunteer, they can grow to become advocates and change-makers. To maximise the benefits of volunteerism, it is important for corporates to have good VM practices in place to ensure that resources are used effectively and efficiently."
He added that CapitaLand provides a platform for different stakeholders to do good together.
The company, through its philanthropic arm CHF, aims for its giving efforts to be strategic and structured. For example, the foundation makes a donation to a charity of an employee's choice if the employee uses all three days of volunteer-service leave within a year.
Tan said: "Beyond donations, we actively work with our partners to advocate volunteerism through the programmes supported by CHF, and leverage the company's network to rally our staff, business partners, tenants and community to achieve collective social impact in helping seniors and children in need."
Dr Foo Fung Fong, executive director of Filos Community Services, said that the company hired a volunteer manager and engaged a consultancy firm to develop a VM framework to manage volunteers more effectively.
The framework maps out the process of volunteer management, which includes preparation of role descriptions, review and evaluation.
The non-profit has noticed the difference this has made. "We have grown to a VM staff size of five at Filos. This has freed up our programme staff's time, so they can focus on improving the services to better meet the needs on the ground, and (bring) about a high volunteer satisfaction rate, which reflects the positive experience of our volunteers."
(Article source: https://www.businesstimes.com.sg/lifestyle/ncss-rallies-partners-better-engage-volunteers)